About clinic


Are you new to Exer? Learn all about our specific services here. Each of our clinics are staffed with experienced emergency room doctors and have on-site x-rays, labs, pharmacy, IV, splinting, laceration, and more. With this full suite of options, we offer patients more comprehensive medical services than a typical walk in urgent care.
Our first urgent care clinic in Ventura County, this Exer Urgent Care is visible from Wendy Drive in the Conejo Gateway Plaza. With a Dollar Tree and a Subway in this shopping center, you can easily take care of an immediate health need and then run some errands.
Unknown location
Address unknown
(Distance unknown)
Visit This Clinic
Open 7 days a week, from 9am to 9pm.
Services
Available
Currently Unavailable
Cough, Cold, Flu
Cuts, Rash, Burns, Bites
Diarrhea, Vomiting
Testing: COVID, UTI, STD
X-Rays
Pre-Op & Sports Physicals
IV Treatments
Parking
Ample complimentary parking is available in the shopping center lot surrounding the clinic.
Other nearby locations

Westlake Village
111 South Westlake Boulevard, Westlake Village, CA, USA
Visit This Clinic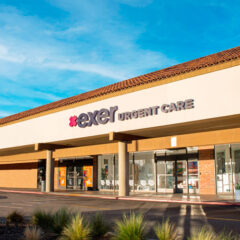 Camarillo
359 Carmen Dr, Camarillo, CA 93010
Visit This Clinic